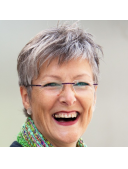 Christine Burgmer
(0)
The contact option is only available for registered members
About me
I've been working as an English language and communication skills trainer with small- and medium-sized businesses for over 15 years now - mainly working on a one-to-one basis or with mini-groups.

Although I've always loved the idea of learning English assisted by technology (it was the topic of my master's thesis years ago!), it took me a bit of time to actually get started in offering webinars and online coaching. But now I'm unstoppable!
I am searching for:
People who love the idea of improving their English skills online - whether they want to focus on their speaking or writing skills, or both!
Offer:
Interactive English language and communication skills training.
Specialised in:
English language and business skills training. Online and face to face. One-to-one and small groups.
Description:
This is Christine Burgmer's webinar room where participants can meet for language training and consultation sessions.