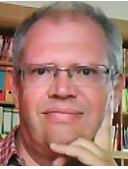 Konrad Fassnacht
(17)
The contact option is only available for registered members
About me
Seit 15 Jahren faszinieren mich die Möglichkeiten, die Webinare bieten - von einfachen Schulungen bis hin zu Großveranstaltungen, von Experteninputs bis hin zu interaktiven Online-Workshops. Fast alles ist machbar.
Offer:
Online-Seminare (Webinare) und Blended Learning Kurse für Trainer, Weiterbildungsexperten, Führungs- und Fachkräfte zu den Themenbereichen "Führen und Arbeiten im digitalen Wandel" und "Mediales Lernen - Train the E-Trainer."
Specialised in:
Blended Learning, Online Learning, Distance Learning, E-Learning, Webianre, Führen aus der Ferne, virtuelle Teamarbeit, interkulturelle Kommunikation, allgemeine Arbeitsorganisation, Social Media
Description:
Die FCT Akademie hat sich spezialisiert auf die Themen
- Leading Smarter - Führen im digitalen Wandel
- Working Smarter - Arbeitsorgansiation und Digitalisieerung
- Learning Smarter - Train the E-Trainer / mediales Lernen, vom E-Learning bis zum Blended Learning.