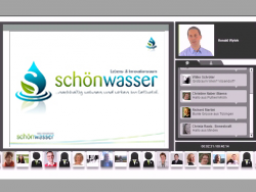 Vorstellung: "Lebens- und Innovationsraum Schönwasser"
Träumen Sie von einem Leben im Großraum Wien/Bratislava ...
... mit guter öffentlicher Anbindung?
... mit Freunden Tür an Tür?
... mit reichhaltiger Infrastruktur in Gehdistanz?

Wir suchen weitere SiedlerInnen jeden Alters, die in leistbaren Mehrfamilienhäusern im Bezirk Neusiedl/See (Zurndorf) 'wohnen und wirken' wollen. An die Bedürfnisse der SiedlerInnen angepasste Gemeinschaftseinrichtungen bieten Vielfalt und facettenreiche Möglichkeiten der Begegnung.

Für jene, die sich auch beruflich niederlassen wollen, ist ein Innovationspark geplant. Biologische Pachtflächen ermöglichen 'ein Gärtnern vor der Haustüre' und das angrenzende Naherholungsgebiet lädt zum Spazieren ein.

Wenn Sie Interesse haben, das Projekt mitzugestalten und im Jahr 2015/2016 einzuziehen, besuchen Sie unser Webinar!

Lassen Sie uns gemeinsam etwas Neues schaffen: Hohe Lebensqualität vereint mit Nachhaltigkeit.

Bitte leiten Sie diese Einladung an andere interessierte Menschen weiter, herzlichen Dank!

Please log in to watch the participant list.