DER-Therapeut.ch, Online-Akademie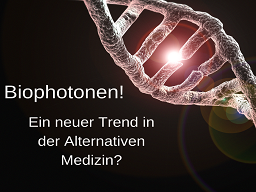 Aktiviere deine Selbstheilungskräfte auf natürlichem Wege!
In Health, Medicine > Health promotion
Video price:

5.00 €

Video duration:

1 hour and 14 minutes

Language:

German
A recording of this webinar is available.
Biophotonen! Neuer Trend in der Alternativen Medizin?
Biophotonen sind in aller Munde.
Aber was genau sind Biophotonen? Was steckt dahinter und was ist damit möglich?

Können dir Biophotonen als Anwender helfen? Oder auch jedem Physio-, Hypno- Allgemeintherapeuten, Heilpraktiker, Tierheilpraktiker, Zahnarzt, Tierarzt helfen und einen tatsächlichen Mehrwert schaffen?

In dieser Stunde vermittle ich die Grundlagen und Hintergründe, Zusammenhänge und Chancen der Biophotonentherapie.
Erstaunlich einfach und anschaulich erklärt.

Licht ist Leben! Licht bringt Klarheit!